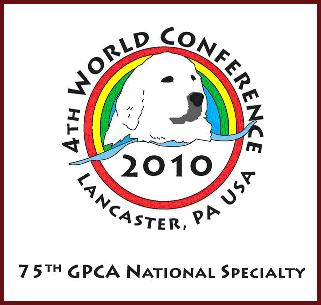 2010 Great Pyrenees World Conference
held in conjunction with the
75th GPCA National Specialty
Dates: April 25th - May 1st 2010
Location: The Lancaster Host Resort & Conference Center
Show Chairs: Jean Pero and Whit Coombs
Message from our Show Chairs
The fourth Pyrenean World Conference will be held in the United States in conjunction with the Great Pyrenees Club of America's 75th National Specialty. The venue will be the Lancaster Host Hotel and Conference Center in Lancaster, Pennsylvania, in the heart of our Amish country.
Unlike prior World Conferences, the format that we plan to follow will be one of participation and discussion, rather than lectures. We want to start each day with small group discussions of predetermined topics relating to our beautiful white dogs. Hopefully these discussions will allow for a good exchange of information, opinion, and experience, as well as, lay the foundation for many new friendships.
We encourage our overseas guests to plan on spending the full week of April 25 through May 1, 2010 with us. We will start off the week with tours to Washington, DC and Philadelphia for those who are interested in seeing more of our country. The actual World Conference / National Specialty will begin on Wednesday, April 28th. For those who have never attended a Great Pyrenees Club of America National Specialty, it can best be described as a four-day celebration of the breed. Along with the expected conformation classes, there will be Veteran and Puppy Sweepstakes, Futurity, Stud Dog, Brood Bitch, Brace, Junior Showmanship, Obedience, Rally, and Carting competitions, with a different party each evening. Based on prior year entries, we expect to have over 225 dogs in competition, with a total entry of over 375.
We are very excited with this opportunity to welcome you to America and to share our beautiful dogs with you. We hope that you will put the dates on your calendar and plan to join us in Lancaster.